Updated 21.11.22

This two-day event will focus on magnetic materials and applications, hosted by Prof Elena Lomonova and the Electromechanics and Power Electronics group at Technical University Eindhoven.
The delegate fee includes entry to both days, the informal dinner, and an interesting tour of the group's Power Electronics Lab.
The programme will include talks over 6 topic areas:
Soft Magnetic Materials
Permanent Magnetic Materials
Machines
Modelling
High Frequency
Measurement and Sensors
VENUE

Seminar – Ag Zaalverhuur Eindhoven Parklaan 93, 5613 BC Eindhoven, Netherlands
Dinner – The Kazerne Paradijslaan 2-8 5611 KN Eindhoven The Netherlands
Tours – TU/e EPE – Flux, De Groene Loper 19, 5612 AP Eindhoven, Netherlands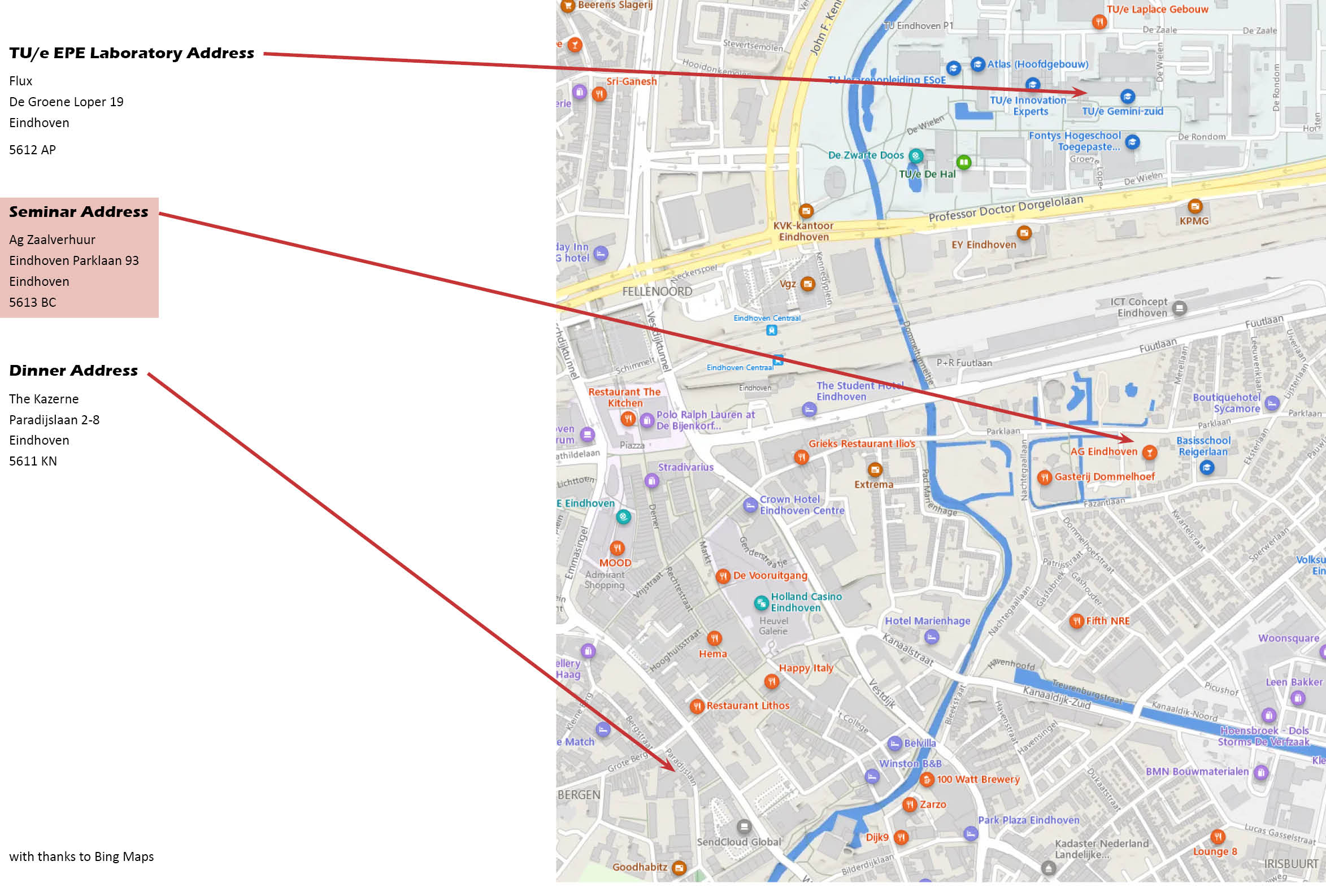 TRAVEL
By air
Eindhoven has an airport which allows direct routes from some major Cities. For alternative direct flights, the next best Airport would be Amsterdam where you can then get the high speed train to Eindhoven.
By train
Eindhoven Centraal railway station is the main railway station in Eindhoven as is an 8 minute walk away from AG Zaalverhuur.
By car
AG Zaalverhuur has its own parking space (± 40 places) where guests can park for free. To access the car park, you will need to head to the rear of the villa via Fazantlaan (GPS Fazantlaan 16).
By taxi
Pin Taxi – +31 6 11483828
Travel to Kazerne
Kazerne is a 20 minute walk away from AG Zaalverhuur but only a short distance away from Hotel Glow and Hotel Match.
Travel to TU/e EPE for the tours
A shuttle bus will be provided to transfer delegates from AG Zaalverhuur to TU/e EPE for the lab tours on Thursday 27 Oct 22. The bus will not be shuttling delegates back to AG Zaalverhuur following the tours and therefore it is recommended that delegates take all their belongings with them to the lab tours and find their own onward travel arrangements.
DIETARY REQUIREMENTS
Please let us know as soon as possible if you have any dietary requirements we need to be aware of.
ACCOMMODATION
Comfort room – double
145 euros per night plus 3.50 euros tourist tax per night per person.
Breakfast 10 euros per day per person
CODE : EVENT221026-161356
Offer ends 15 September 2022
Room and breakfast
To book, email info@hotelglow.nl and quote 'UK MAG' and the below rate.
139 euros per night plus 3.50 euros tourist tax per night per person based on a 2 person occupation
PROGRAMME

A draft programme for the event includes:
08:30-23:00 | 26 October – welcome, lunch, technical talks, informal evening reception and dinner
08.30- 17:30 | 27 October – technical talks, lunch, technical talks, laboratory tour, close. For the remainders: evening networking
First Draft shown further down the page.
One space available in modelling session, last minute applications considered! Please contact events@ukmagsoc.org if you wish to present
DRESS CODE

The dress code for the event is business attire / smart casual.
CONTINUING CONTACT / GDPR

Please note, by providing contact details during registration, you authorise us to
use these contact details to let you know details of this event, and
add your contact details to our contact database to let you know about future events that may be of interest.
Please let us know at enquiries@ukmagsoc.org at any time if you do not wish to be contacted in this way. Also, we can remove you from our contact schedule at any point in the future.
We will also be taking photos at the event. If you do not wish to have your photo taken during the event, please contact events@ukmagsoc.org
REGISTRATION

*Due to ongoing occasional technical problems taking card payments, we are temporarily using EventBrite to register delegates. A VAT invoice will be issued by EventBrite for any card payments, and EventBrite will issue an invoice for payment by other means. We hope to have the problems fully recitified in the near future.
If you don't want to use EventBrite, please email me at astewart@ukmagsoc.org, and I can register you for the conference and create an invoice manually – but note we can't take card payments using this method, only bank transfers.
Sponsors